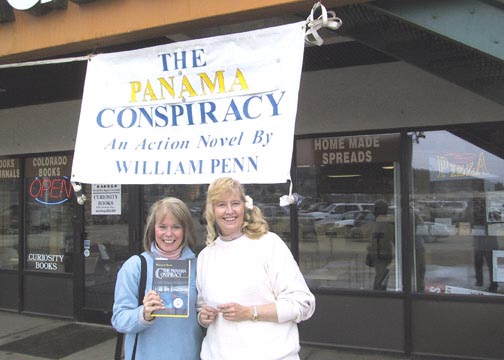 Following a book signing at Fraser's Curiosity Books, Nancy Chaffin of Silver Creek holds the first copy of The Panama Conspiracy to be sold in Grand County. At right is Penny Hamilton, the Penn in the husband and wife writing team of William Penn
TOP OF THE LINE SUSPENSE THRILLER
By Larry R. Moffitt, Vice President, Editorial, United Press International

After the surprise in the first chapter of The Panama Conspiracy knocks your socks off, you can pretty much kiss the rest of the evening goodbye. You're going to want to be left alone to read for awhile.

Buck and Dolly are a retired couple who had stellar careers in the military and intelligence service behind them. All they want to do now is kick back on their deck and look at the view of Lake Granby, Colorado. It would be easy if they didn't have pasts. This time the trouble that finds them links, Miami, Hong Kong, the Panama Canal and the caves of Tora Bora with Osama bin Laden, the Red Chinese and Fidel Castro. Castro, whose son they killed, is apparently taking it very personally and he wants a piece of them too. Badly.

How all this fits together and works itself out, will keep you hanging in suspense well into the wee hours - a tribute to complex, true-to-life characters in Buck and Dolly. The reader will come to care about them as family (insanely danger-prone family, but family), in addition to admiring their courage and cunning.

The worst-kept secret about William Penn is that "he" is a "they," husband and wife writers. Like Buck and Dolly? Hmmmmm. Well, I can tell you the man half of the authors is a retired DOD spook who has served his country well in clandestine operations in war and Cold War. The woman half of the team also looks perfectly harmless in real life, although it is known she has committed journalism, and therefore certainly bears scrutiny.

What's the book blurb cliché..."torn from today's headlines?" Well this one really is. The fact that much of the action and intrigue is highly plausible right now, today, heightens the interest value and puts the book's relevancy through the roof.

The authors have created a book that rivals the best of Ludlum and Clancy. The Panama Conspiracy is a first rate action-suspense thriller that ups the ante from William Penn's first novel, The Grand Conspiracy, and can hold its own with anything of that genre being published today.

Barnsandnoble.com

David A Rennie, a Viet Nam veteran and engineer., April 14, 2003,
Osama bin Laden, the Chinese Communists, AND Fidel Castro
Clancy and Forsyth, move over; there's a new espionage and suspense thriller author on the block! Try as they might, Buck and Dolly just can't seem to relax in their splendidly isolated mountain home overlooking Lake Granby in Grand County, Colorado. A career of service to their country has made them indispensable to its security and, once again, they are called upon to use their training and intuition to thwart yet another terrorist threat and, at the same time, to prevent the 'hostile takeover' by the Chinese Communists of its errant democratic little brother across the Straits of Formosa! Before they tackle that gargantuan task, Buck must confront the satanic Osama bin Laden in the Devil's own lair! Author William Penn uses the background of a distinguished and adventurous military and geopolitical career to weave a tale of espionage and evil thwarted replete with incredible detail of arms, espionage technique, combat demolitions, and communications technology. 'Spy geeks' attend to this fast and easy read that's finished way too soon! Thank goodness Penn and Buck and Dolly Madison are on our side! Several copies need to be in the White House, the CIA, and the NSC libraries!

Amazon.com

Reviewer: Mary Kathryn Jones from Colorado Springs CO April 15, 2003
This book is a well written, exciting read that brings Dolly and Buck alive, and I almost feel as though I could talk to them. They get in and out of plausible episodes that keep the tension up, the scenes and setting easily believable. The book moves quickly from chapter to chapter, making it hard to set the book down - as you want to know what is going to happen next. It is a logical sequence to the first book (even better) written by William Penn, and I'm eager to read their next two.


"I loved The Panama Conspiracy. In fact, I think it is even better than The Grand Conspiracy. It's on a par with the work of Tom Clancy and Clive Cussler. I can't wait for the next novel in this series."
-- Julie Morrow - Granby, Colorado
Barnsandnoble.com

John Keeley, a retired infantry colonel, April 29, 2003,
Buck and Dolly: Patriots Extraordinaire
Those who enjoyed Buck and Dolly in The Grand Conspiracy will be delighted with their new adventures in The Panama Conspiracy. Though we know better, Buck and Dolly arrive in Hong Kong presuming an uneventful return to Miami on the cruise ship, Seawind. This is not to be. The President sends Buck into the mountains of Tora Bora with a personal message to Osama Bin Laden. What an adventure for Buck (and Osama)! Dolly, remaining in Hong Kong, has a bit of excitement on her own. They embark on the Seawind not knowing that the ship has an integral part to play in the planned invasion of Taiwan. Nor are they aware that there are six Cuban terrorists on the ship with the mission of seizing the ship and scuttling it in the Panama Canal. And, not incidentally, Buck and Dolly are to be murdered in a most gruesome fashion for having killed Castro's son in the events of The Grand Conspiracy. Thanks to their derring-do. Buck and Dolly are able to foil the terrorists and frustrate the invasion of Taiwan, but only after an almost incredible series of adventures. The story moves at a full gallop from beginning to end. The Panama Conspiracy may just be the best beach book of 2003.

Amazon.com

Politically Correct-free zone, May 7, 2003

| | |
| --- | --- |
| | Reviewer: Noel Boykin from Grand Lake, Colorado USA |
Turn the first page and enter the Politically Correct-free zone. William Penn deals with world issues in a manner too bold for the pusillanimous Media. A truly fine yarn of international intrigue and warfare conducted between the forces of good and evil . . . too bad some of the evil is imbedded within our own society.

"I have just competed The Panama Conspiracy and really enjoyed it. The humor, facts, detail and the down-to-earth writing provide both education and enjoyment. A fun book to read!! My wife and I can't wait for the next two books."
Thom Frey, Lt. Colonel, USAF (Ret.)
Highlands Ranch, Colorado

"Once I started The Panama Conspiracy, I could hardly lay it down. Can't wait for the movie version," Ed Porter, Porter Investments, Oklahoma City, OK


Panama Conspiracy - Fast paced thriller with lots of action
, July 15, 2003
| | |
| --- | --- |
| | Reviewer: A reader from Round Rock, TX USA |
Pick it up and you can't put it down. Buck and Dolly Madison do it again, only bigger and better. William Penn's novels start out fast and then accelerate to full throttle. Interesting characters, global perspectives and written with Ian Fleming flair. Outstanding!
Comments from Writer's Digest about The Panama Conspiracy:
"I liked the way you tied into current events with your plot line. I thought you did a good job of weaving fact into fiction in this book. This can be very difficult to do in a novel, as the action in the book is going to be very familiar to most readers. Plus you have to make sure the fictional events don't impinge on the 'real world' to make it believable... I thought you did a great job with bringing those events to life in the book and making the reader suspend disbelief and come along for a very fast-paced ride."