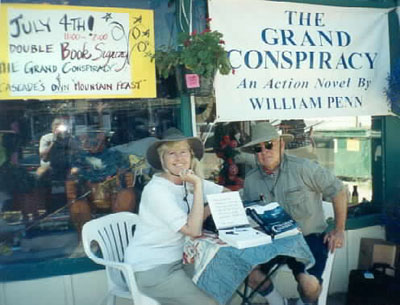 | | |
| --- | --- |
| | . |

The following are excerpts from five-star reviews that can be seen on Amazon.com and Barnes & Noble.com.

From Round Rock, TX: What a page-turner and barnburner!
"What Into Thin Air is to mountain climbing, and The Perfect Storm is to sword fishing, The Grand Conspiracy is to Terrorism and High Country Eco-terrorism. In this fast paced thriller, I learned about; the American Revolution, Flying Planes, Mountain Survival Techniques, the Truth behind The Vietnam War and how the Florida Presidential Election was manipulated. All in one novel, whew!" Anonymous.
From Washington, D.C.: Makes you stop and think.
"The Grand Conspiracy by William Penn makes you stop in your tracks and think."
Paul Weyrich, President of the Free Congress Foundation. May, 2001.

From Crawford, CO:
Grand Reading from Two Conspirators
"This is, a stunning and accurate tapestry of weaving history with current events". The [authors'] views on these subjects are clearly given, but without clouding the essential facts. The accuracy and level of detail in technical matters also reveals substantial research and experience in a wide range of subjects. The integration of a website to show full color illustrations that would otherwise increase the cost of the book is quite brilliant and may be the way of the future publications. Being a pilot intimately familiar with the Granby and Grand Lake area west of Denver I was delighted to find the region portrayed as an integral character itself in the plot. Rob Duncan (duncan@airbase1.com), a flight Instructor and aircraft mechanic, June 1, 2001


From Lexington, OK: A Grand Conspiracy to Entertain as well as to Educate
"Every American who professes to understand American history should read this book...
The word pictures are as vivid as a Colorado sunrise! I'm confident that I can navigate the geography around Granby and Grand Lake while using their book instead of a GPS! The authors, individual and collective experience in the intelligence, military, and geo-political communities gives total plausibility to the plot so eloquently described. The reader will despise totalitarianism with a renewed vigor and love America with a renewed and deepened fondness while being entertained with an adventure thriller that will not -- repeat not -- encourage sleep! David A. Rennie, P.E. and Vietnam veteran. May 4, 2001.


From Colorado Springs, CO:
History, Mystery and Adventure - this book does it all
"Who doesn't get hooked when 'they' are out to kill the President? This book is filled with history that is eye opening and revealing as well as having contemporary input about current affairs - nationally and internationally. For those of us who live in Colorado, ongoing water wars have been issues since the state joined the union. The book gives good background and pertinent info as to why we are still fighting them. The story is easily credible, and the characters could live in your hometown. This is one book that I didn't skim, or want to put down."
From McCook, NE: Grand Lakers need to read this novel
"The Grand Conspiracy by William Penn is a fun and exciting novel for people who like a fast-moving story line and complex characters being pushed and pulled between their emotions and their sense of duty to country. But this novel is also chuck full of interesting history that highlights Colorado's endless water wars and the on-going dialog of the deaf between Colorado's anti-growth and pro-growth factions. I think this is a story that needs to be told." Steve Batty, TBS, Inc. May 31, 2001.
From Dallas, TX: A careful blend of intrigue and history.
"This thriller offers a careful blend of intrigue and history of Grand County, CO. The author's military and geo-political experiences add to the plot's conceivability. This husband and wife team have researched in great detail matters in this book. They have a gift for making one want to retrace the steps of our heroes in this obviously beautiful part of Colorado. Duty, Honor, Country!" Billy Mc Broom, Colonel, USA (Ret.) May 30, 2001.
From Denver, CO:

Bravo Buck and Dolly!

"A great story of Western resources verses Eastern growth. It's one of those books you can't put down. Bravo Buck and Dolly!" Ernie Bjorkman, WB 2 TV News Anchor.
From Grand Lake, CO:
"A great read. Lots of twists and turns. Historically accurate and enlightening. A fabulous gift for the adventure-suspense reader." Julie Richie, 4th Generation Grand Laker and Native Coloradoan.

The Grand Conspiracy, December 17, 2001
Reviewer: Robin Boykin from Tiburin, CA USA
A Grand tale of conspiracy, intrigue, deception, love, with a twist. Fascinating . . . William Penn deftly evokes the contrast between politics and the inspiring landscape of the Rocky Mountains.


Barnes and Nobel customers who purchased The Grand Conspiracy have also purchased:

The Bear and the Dragon by Tom Clancy
Time Line by Michael Crichton
The Testament by John Grisham
Personal Injuries by Scott Turow
The lion's Game by Nelson DeMille
Review " The Grand Conspiracy " Cathy Walton-Smith -

This past summer, when The Grand Conspiracy was first published, I purchased five copies for Christmas gifts for friends and family around the country. I thought, what a great idea for a book about this area. They're still sitting in a box waiting for the last minute mailing the week before Christmas. I don't believe in rushing things.
About a week after the terrorist attacks on New York and Washington, DC in September, I sat down with my own copy of the book and began to read. I highly recommend you do the same thing.

The timing for The Grand Conspiracy couldn't be more appropriate. It seems that the authors have an uncanny insight into the possibility of terrorist attacks in this country. (The book was written before the recent attacks.) To read about the planning and carrying out of such an attack in our own back yard was frightening. Yet, the heroism of what could have been my neighbors, brought a sense of comfort to me in these unsettling times.

If you have internet access, and can go to www.thegrandconspiracy.com, you will find a series of photos of places around the county which are referenced in the book. I wish they had been able to publish them in the book, but having them on the internet is a really good idea. I'm hoping they'll still be there in 20 years when my grandson reads the book.

The constant reference to places we all know makes The Grand Conspiracy a fun book from an angle that only us Grand County residents can appreciate. Having been a local resident for going on fourteen years, I am reminded of the many places I have yet to visit. High on my list now is a tour of the Farr Pumping Plant on Lake Granby, followed by a hike along the Continental Divide Trail and a hike to the Grand Ditch.

Although this is a work of fiction, the conversational style of writing which the authors chose has allowed them to interject many points of history from the past 30 years. It also gave them an avenue to voice their own political views. They were very effective in using this to set the stage for the real meat of the story.

The central characters, Buck and Dolly Madison, made me think of the authors " William Penn " Dr.'s Bill and Penny Hamilton, whom I know . . . but not well enough to know if any of this story is really about them. Their military background is prevalent throughout the book. Those of us without such a background could maybe have benefited from a glossary of terms.

I like the way they referred to our Granby Dam as "the Lake Granby High Dam." It gives it such a sense of grandeur and importance. We take so much of what is here for granted, it was nice to read about a potential situation that makes this area important. It is important!

Buck and Dolly have inside connections to U.S. President Trimmer (who will remind you very much of our recent former President). They find themselves, unknowingly, at the center of a plot, orchestrated by Fidel Castro, to assassinate the Presidents of both the U.S. and Russia and destroy the water diversion systems in Grand County along with the lives of hundreds of people.

The Grand Conspiracy is truly a page-turner. Pick a quiet fall weekend without any other priorities. Sit yourself comfortably in front of a cozy fire. I guarantee that once you start reading this book, you won't put it down until Buck and Dolly are safely back in their home, overlooking Lake Granby.

I'm wondering if Buck and Dolly will be having any future adventures in Grand County?


Colorado Country Life Magazine November 2001
page 15.
On the Trail of a Good Read - Book Review The Grand Conspiracy by William Penn (iUniverse.com, Inc., $19.95)

Spies and intrigue fill the pages of THE GRAND CONSPIRACY. Assassins have moved into Grand County with plans to kill the vacationing American and Russian presidents.

It just happens that Buck and Dolly Madison, two resourceful individuals with connections to "The Company," are also on the scene. Inadvertently they get tangled up with the conspirators and end up having their private plane shot down over St. Vrain Glacier. By then, they've begun to understand that someone is up to no good. They fight their way off the glacier and do everything they can to thwart a complicated plot that involves destroying the Lake Granby High Dam.

For those who know and love Grand County, the book takes them to familiar places. For those who don't know the county, there are photographs and diagrams at
click here
to help. The website is a great tie to the book, adding another level of information.
Full of detailed background and specific points of view, the book is written by Grand County residents, Drs. William and Penny Hamilton under the pen name William Penn. Retired from military service, the Hamiltons bring insiders knowledge to this book on conspiracy.

The book is available in traditional paperback through
www.iuniverse.com
,
www.amazon.com
or
www.barnesandnoble.com
, or as an ebook at
www.booksurge.com
or
www.inuniverse.com
- Grand County stores carrying this novel are: The Grand Lake Lodge, The Grand Lake Pharmacy, Granby Drug, Highland Marina, The Furniture Store (south of Granby), Fraser Drug, Curiosity Books (Fraser), Trails End Mercantile Exchange (base of Winter Park Ski Resort), and The Outfitter (base of Winter Park Ski Resort).
From one of Robert Ludlum's old fraternity brothers:
I just finished The Grand Conspiracy. What a great read! The last half went as fast as any book I can remember... It was a great read and I was sorry to reach the last page... Again, thanks for the exciting hours of reading.
Robert G. McKelvey, President
The George McKelvey Co., Inc. Sea Girt, NY


Comments from Writer's Digest about The Grand Conspiracy:
"Wow, it was nice to see a couple as adventurers. I liked that aspect a lot about this book, and it was indicative of many other characteristics of this book. I thought you took the standard current events suspense novel and made it your own. You had extremely well developed characters, who seemed to jump off the page. The reader really cared about what was going to happen to these people. You had a good build-up of suspense as well. Each element of the plot only made the reader want to find out what happened more. The current events were well-handled as well."